The president of Colombia, Gustavo Petro, has confirmed the discovery alive of the three children and the baby who disappeared in the jungle on May 1 after the plane in which they were traveling with three adults suffered an accident that ended their lives. of the pilot and the two adult companions. Petro celebrated the news on his Twitter account: «A joy for the whole country! The 4 children who were lost 40 days ago in the Colombian jungle appeared alive.
"The indigenous communities that were in search and the Military Forces jointly found the children, 40 days later. They were alone. They themselves achieved an example of total survival that will remain in history. Those children are today the children of Peace," the president explained at a press conference published by the Colombian Presidency on his Twitter account upon arriving in his country after a visit to Cuba to agree on a ceasefire with the THE N.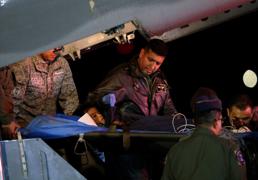 He has also added that "the state of health of the four minors will be verified" and that they will heed "the advice of the doctors", since their state of health must have "breakdowns" for having been in the jungle for so long. without a good diet. The little ones have already been transferred to Bogotá to be cared for by professionals.
Looking for the rescue dog

The Minister of National Defense of Colombia, Iván Velásquez Gómez, has announced that the minors "were stabilized by the combat medical team and will be transferred tomorrow to the military hospital." Along with the children, the rescue dog, Wilson, who has been key to the discovery, has not been found, so people have turned to social networks to ask the president to continue the search.
The minors – aged 13, nine, four and one – were traveling with their mother and another companion in a small aircraft that suffered an accident while flying over the department of Caquetá, in a jungle area. Authorities found the bodies of the three adults a few weeks later, but found evidence that the children were still alive.
According to the investigations, collected by the Caracol Radio station, the pilot reported by radio of a failure in the plane's engine, and shortly after it would have landed on the treetops, the aircraft falling violently to the ground and being semi-buried in a way upright on the ground.