Shock in France. At least six people have been injured, including four children under the age of three, in a knife attack in a park in Annecy, southeastern France, carried out by a Syrian refugee. At the moment, the motives for the attack are unknown.
«Absolutely cowardly attack this morning in a park in Annecy. The nation is in shock. Our thoughts are with them, as well as with their families and with the mobilized emergency services," French President Emmanuel Macron reacted on Twitter.
The attack occurred around 9:40 a.m. in a swing area in the Gardens of Europe, a huge park near Lake Annecy in the Alps. The four children are in very serious condition after the knife attack, authorities announced.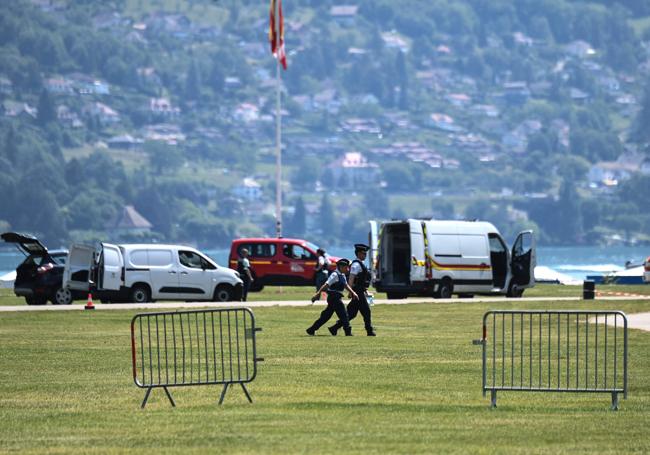 The attacker was arrested "thanks to the rapid intervention of law enforcement," French Interior Minister Gérald Darmanin announced on Twitter. According to the local press, the attacker, arrested four minutes after the attack, is a 32-year-old refugee of Syrian nationality who was in a regular situation in France. He would have obtained refugee status in Sweden in April 2023.
A video, broadcast by the television network BFMTV, shows the attacker, dressed in black with a headscarf and sunglasses, calmly running with a knife in his hand, chased by another person with a backpack who was trying to stop him. At the moment, the reasons why this man would have attacked such young children in the park with a knife are unknown.
Video of the attack by the Syrian refugee who stabbed 8 children and an adult in a playground in the city of Annecy, France. pic.twitter.com/9W8mygCN3A

— Wall Street Wolverine (@wallstwolverine) June 8, 2023
The Annecy judicial police are leading the investigation. The anti-terrorist prosecutor's office is evaluating the situation, but, for the moment, has not taken charge of the case.
Minute of silence

After the news of the attack was known, the deputies observed a minute of silence in the National Assembly. French Prime Minister Élisabeth Borne and the Interior Minister will travel to Annecy today to accompany the families and victims of this attack.
The French political class was horrified by the news of this attack. "How is it possible? Attacking small children. Attack them with a knife. Our hearts are in pieces having to live through this. To the children, our painful affection. We express our sorrowful compassion to the parents," reacted Jean-Luc Mélenchon, leader of the leftist party La France Insumisa.
"It is the height of horrors, of ignominy, of barbarism," added Éric Ciotti, leader of the Los Republicanos party (moderate right), who demanded "a strong reaction." "Our children are in mortal danger and we look the other way. Until when? ", wrote the far-right Éric Zemmour on Twitter.