Once again, Eliud Kipchoge has amazed everyone. On Sunday September 25, the Kenyan completed the Berlin Marathon in 2 hours 1 minute and 9 seconds, flying of 30 seconds his own world record, established in 2018, already in Germany. Once again, there was no shortage of superlatives to salute his exceptional performance.
Sunday October 2, the 37-year-old runner is not likely to eclipse the competition again since he has decided not to start the London Marathon. In his absence, Kenenisa Bekele, 40, can hope to attract all the light.
If Eliud Kipchoge is imperial on the queen discipline and its 42.195 kilometers, some purists of long-distance running consider that his Ethiopian rival is, on the whole of his career, more impressive. "You cannot compare Kenenisa with anyone in the past, present and probably the future", affirmed to the American site LetsRun, in 2016, Renato Canova, trainer who collaborated with these two cracks. Before facing him at the world championships in 2011, Britain's Mo Farah admitted he was "just of another caliber". Jean-François Pontier, specialist marathon coach, is more nuanced: "His track and cross track record is second to none, but no other athlete has matched Kipchoge's marathon performance. »
Read also
Can Kenyan Eliud Kipchoge run a marathon in less than two hours?
If there is debate, it is because Kenenisa Bekele crushed the competition in the 2000s. A view – even partial – of her record allows us to measure her domination at the time: four world champion titles out of 10 000 m in a row (including a double with the 5,000 m in 2009, a first), three Olympic gold medals (with another double in 2008), five double cross short (4 kilometres) – cross long (12 kilometer ) at the world championships from 2002 to 2006. That same year, he became the first athlete to be world champion on track, cross country and indoor.
His passage from the track to the asphalt? The Ethiopian won in his first marathon, in Paris, in 2014, even signing the new record for the Parisian event, in 2 hours 5 minutes and 2 seconds – beaten since by the Kenyan Elisha Rotich in 2021 (2 hours 4 minutes and 21 seconds). Bekele also won several prestigious victories in Berlin, in 2016 and 2019.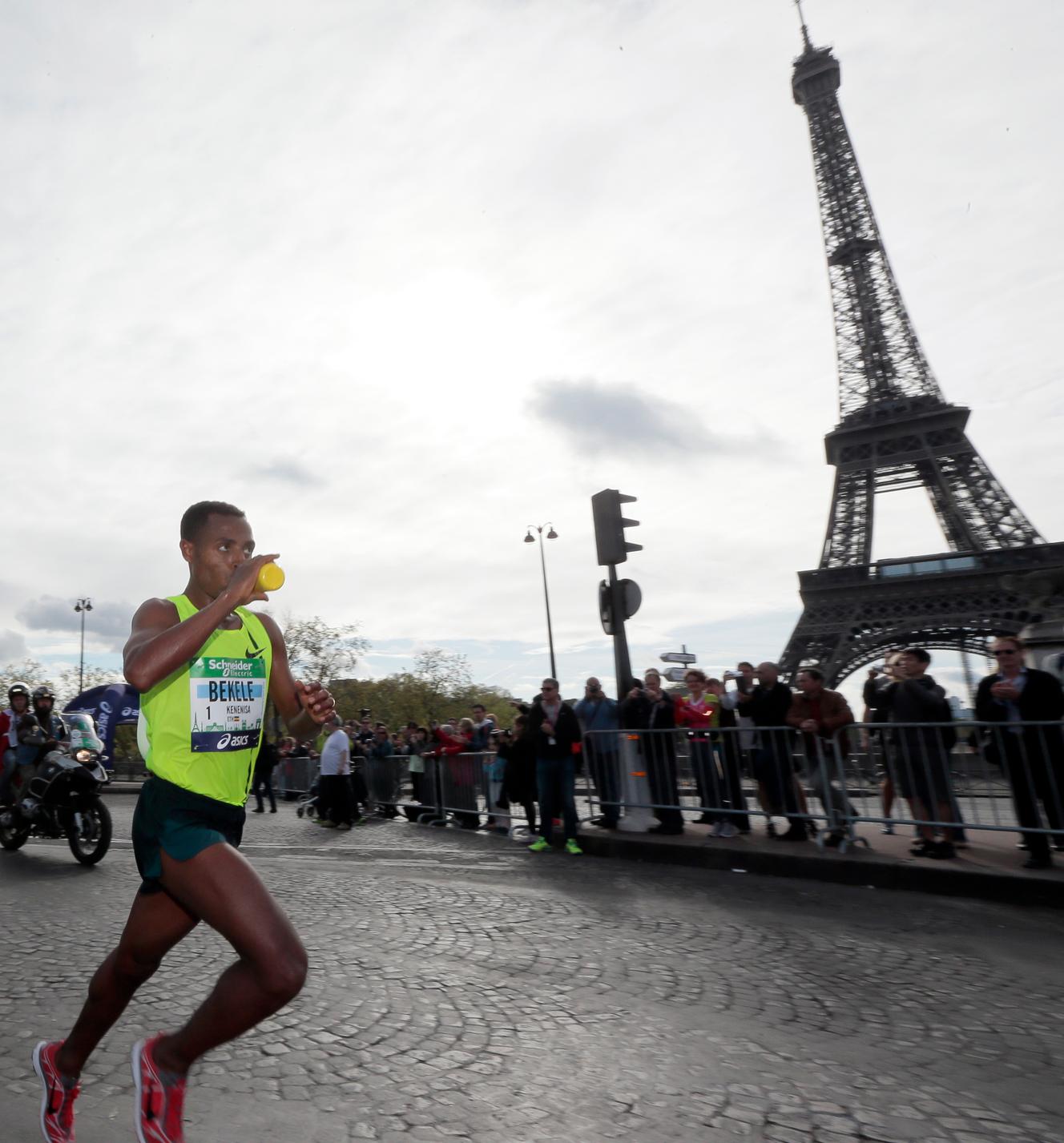 However, this endless track record hides a path strewn with pitfalls. In January 2005, while jogging in a wooded area in Ararat, near Addis Ababa, with his fiancée Alem Techale, herself a top runner, she complained of pain in her chest and collapses. What should have been nothing more than a banal workout on the arduous slopes they know by heart turns into tragedy: the young woman dies in his arms on the way to the hospital, a few weeks before their wedding.
"Running has become my only reason for living"
Bekele then takes refuge in the race. Barely two months later, in March 2005, he is already back, achieving a new double at the World Cross-Country Championships under the sun of Saint-Galmier (Loire). If the result is almost usual, its celebration is less so: the shy and discreet Kenenisa, hitherto not very expressive, sends kisses to the public in the last meters of the race, before crossing the line alone, the arms to the sky, overtaken by emotion. "Running has become my only reason for living, he will confide after his success. I know Alem would have wanted it that way. »
Born in 1982 in Bekoji (Ethiopia), the second of six siblings, Bekele grew up in the shadow of his predecessor and mentor Haile Gebreselassie. Withdrawn from the media, he has long considered that his performances are sufficient in themselves. But little by little, it is indeed Kipchoge, his Kenyan rival, who is attracting the spotlight, accompanied by sponsors and followed today by 1.9 million people on Instagram, when he has only 188,000 subscribers on Instagram. the same social network.
Read also
Article reserved for our subscribers

"I am obsessed with the desire to run": in Bekoji, the Ethiopian factory of long-distance runners
Different in their way of racing, the two men are also different in the management of their careers. This is evidenced by the late arrival of Bekele at Nike, while his Kenyan rival benefited from the brand's famous carbon shoes as soon as they were released in 2016. The Ethiopian also decided late to join the NN Running Team, a running team in professional foot founded by its agent Jos Hermens, which accompanies the best athletes. A structure of which Kipchoge was already a part, while Bekele trained alone with his brother Tariku on the plateaus of the Rift Valley.
"A different career direction"
Handicapped by recurring injuries and his difficulties in keeping a stable weight, Bekele left his native Ethiopia in May 2019 to train for eight weeks in Nijmegen (Netherlands), where the NN Running Team is based. There, he follows a tailor-made nutritional program and does specific exercises that physiotherapist Peter Eemers called "warm up for the GOAT" ("warming up for the best of all time"). " It went even better than expected and it reflects his talent but also his mental strength."confided Jos Hermens to The Team.
In September 2019, Bekele won the Berlin Marathon in 2 hours 1 minute and 41 seconds (third best performance of all time), before confirming on the London half-marathon, that he finished in 1 hour and 22 seconds. Rare progress and rebirth for an athlete now 40 years old. "He has exceptional physical qualities, perhaps even more so than Kipchoge. They just had a different career direction"believes, as a specialist, Jean-François Pontier.
It must be said that beyond the race, the Ethiopian has a busy life. Married in 2007 to actress Danawit Gebregziabher, with whom he had three children, he wants to be "the best father possible", explains his agent on the NN Running Team website. Even if it means sacrificing your preparation. Also a businessman and investor, Bekele notably had a hotel built in his name in Addis Ababa, the city where he lives. But this Sunday, it is in the streets of London, where he has never won before, that he will try to write a new chapter in his legend.