To not miss any African news, subscribe to the newsletter of the "World Africa" from this link. Every Saturday at 6 a.m., find a week of news and debates covered by the editorial staff of the "World Africa".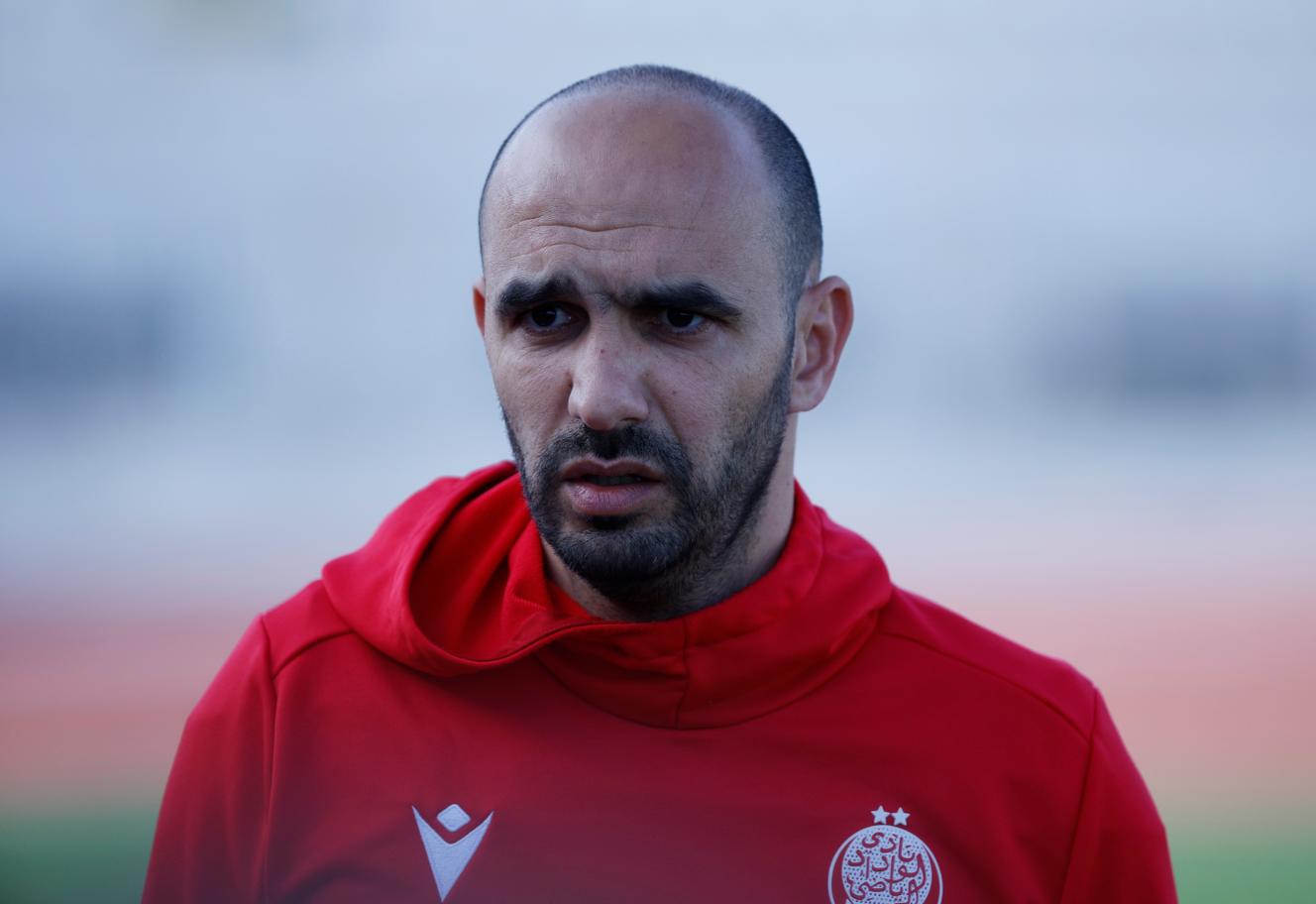 In Morocco, the choice of Walid Regragui as the new coach of the Atlas Lions has become obvious. The name of the ex-coach of Wydad Athletic Club of Casablanca, officially designated Wednesday, August 31, invariably came up in conversations even before the fate of his predecessor, Vahid Halilhodzic, was sealed in the heart of August.
"There had been rumors in the spring concerning Laurent Blanc, Rudi Garcia, Claude Puel, André Villas-Boas… But there was only one serious lead, that of Regragui. The supporters wanted him, especially since his success with Wydad., summarizes the journalist and consultant Nassim El Kerf. Under his auspices, the club had a stellar season winning the African Champions League at the expense of arch-rivals Al Ahly in Egypt and retaining the Moroccan league title.
Read also:
Football: in Morocco, Walid Regragui succeeds Halilhodzic at the head of the selection
Born in France and holder of dual nationality, Walid Regragui, 46, is the first Moroccan coach for six years, after Bosnian Vahid Halilodzic and Frenchman Hervé Renard. Furthermore, "He has a strong link with the selection, since after having been a player, he was assistant coach for Rachid Taoussi in 2012-2013"continues Nassim El Kerf.
It is especially at Fath Union Sports in Rabat (2014-2020), a club with much lower means than that of Wydad, that Walid Regragui has forged a serious reputation in the kingdom. Its longevity – almost six years – testifies to its success. "He won the championship [en 2016] with young players that he had launched in Ligue 1 because he did not have large financial means ", says Rudi Garcia, the coach of the Saudi club Al-Nassr, in Riyadh, and one of his relatives. Walid Regragui has never hidden being inspired by the attacking game advocated by the French. He had also traveled to Italy to closely observe his working methods when he coached AS Roma (2013-2016).
A close bond with Rudi Garcia
Walid Regragui, who ended his career as a professional player in 2010, became one late, at almost 23 years old. It was Rudi Garcia who had noticed it at random during a match of a junior team from the Corbeil club (Essonne). "A fast, technical player. I decide to take it with the A team of Corbeil, in the Division of honorremembers the coach. He stayed with us for two years before leaving for RC Paris. I think he had this desire deep inside him to turn pro, but time was starting to work against him. »
Toulouse, in 1999, will be his first professional club. He will know five others (Ajaccio, Santander, Dijon, Grenoble and Tétouan), while keeping a close link with Rudi Garcia. "He had this curiosity about tactical issues, management, preparation… Walid always had a reflection on the game, on the collective, and he naturally became a coach. I had advised him to graduate, just in case…"
Read also:
Football: an African Super League should see the light of day in 2023
His arrival as a defender in the Moroccan selection in 2001, in the middle of a locker room populated by egos and internationally recognized players, such as Noureddine Naybet or Mustapha Hadji, allowed him to deepen his skills. He will quickly become one of the executives of the national team, with which he will reach the final of the African Cup of Nations (CAN) in 2004 in Tunisia.
Abdeslam Ouaddou, former defender of the Atlas Lions who became general manager of Loto-Popo FC, in Benin, was for several years his teammate in the selection. "He had become a natural relay for the coach, Badou Zaki, who only spoke Arabic and Spanish. Walid, who is also fluent in French and English, passed on the coach's instructions to the players. He communicates easily, has personality and charisma, while knowing how to stay in his place when necessary. »
"He can rise to the challenge"
After starting his retraining as a coach in Morocco, Walid Regragui went into exile in Qatar in 2021, the time to win the championship with the Al-Duhail club (Doha). "His rigor surprised me. He arrived in a country where the pressure is less strong than in Morocco, but not once did I see him relax.summarizes Karim Boudiaf, Franco-Algerian naturalized Qatari, who is preparing to compete in the World Cup with the 2019 Asian champions. He knows how to be relaxed and likes to joke, but once in the field, he demands seriousness and involvement. It can be tough. "He is a competitorconfirms Abdeslam Ouaddou. How many times have we argued during matches when we get along very well? »
Walid Regragui signaled himself at the end of July with a gesture that was not very fair play during a meeting between Wydad and the Renaissance Sportive de Berkane in the final of the Throne Cup: while he was along the line of touches, he threw a bottle of water in the direction of an opposing player during a counter-attack. A gesture that earned him a red card. "He can be impulsive, openly criticize African refereeing, without taking gloves"continues the journalist Nassim El Kerf, referring to a CAF Cup match, in Cameroon in 2016, with FUS Rabat.
Read also:
Football: Samuel Eto'o, a fiery but increasingly contested president within the Cameroonian Federation
In Morocco, the legitimacy of Walid Regragui in the very exposed position of coach, where he will receive a monthly salary of 60,000 euros, is indisputable. "He had results everywhere he went, he has experience and he knows the mentalities that make up the selection. He can rise to the challenge."assures Karim Boudiaf.
But the timing of his appointment calls out, as Morocco inherited a strong group (Belgium, Croatia, Canada) for the World Cup in Qatar, from November 20 to December 18. "Today everything is fine, he signed for three years, he will lead the selection for two friendly matches in September against Chile and Paraguay. But imagine that things go badly in Qatar, that the team is eliminated in the first round… Will we give him time to work over time?asks Abdeslam Ouaddou. In Morocco, we sometimes have trouble with patience and managing our emotions…"