France lived a night on July 14, the day of the national holiday, quieter than expected compared to 2022, which the government blamed on the strong police deployment. The Ministry of the Interior mobilized 45,000 police and gendarmes last night because it feared a return of violence, days after the riots over the death of Nahel, a 17-year-old boy, from a shot by the police in Nanterre.
255 burned vehicles have been registered, which represents a decrease of 40% compared to 2022, in which 423 cars were set on fire. Police arrested 96 people. Seven policemen, gendarmes and firefighters were injured last night, compared to 21 last year, according to the provisional balance of the Ministry of the Interior.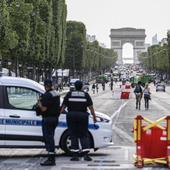 «Popular festivals, concerts and fireworks have been able to be held throughout France with a significant drop in damage compared to 2022. We owe it to our law enforcement, their presence and the many preventive checks carried out. Thanks to them," Interior Minister Gérald Darmanin wrote on Twitter.
Incidents like New Year's Eve

As is the case on New Year's Eve, the celebrations of July 14 are often marked in France by urban violence. But this year the government feared it would be even worse after the recent riots.
On the eve of the national holiday, the Macron Executive prohibited the sale, transport and use of pyrotechnic articles and fireworks throughout the national territory until June 15 included, with the exception of professionals. They also strengthened border controls to prevent the smuggling of pyrotechnic mortars, as well as their clandestine shipment by mail.
During nights of urban violence, rioters often fire pyrotechnic mortars at officers. Last night, 51 pyrotechnic mortar shots were fired at law enforcement, compared to 333 in 2022.